December 4, 2023
5 - 9 pm
|
American Legion Post #1302 in Poughkeepsie
our 1st annual winter event

Join us for this special holiday gathering. We welcome everyone in our community to come together in gratitude and unity for dinner, music, and fun. Enjoy good company, and help us support a good cause!

This event is free to attend. There's a suggested donation of $10 for those who are able. Please RSVP to give us a headcount for food.
LOOKING FOR WAYS TO PAY IT FORWARD?
We will have two special opportunities to give back at our holiday event: a fundraiser benefitting youth with the launch of our memorial scholarship fund and a gift drive benefitting the homeless through Hope On A Mission (HOAM). Please see below for further details on these initiatives!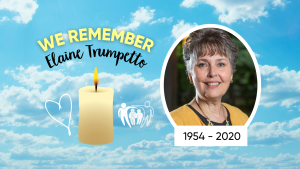 With this event, we are launching a new memorial fund for the:
ELAINE TRUMPETTO MEMORIAL SCHOLARSHIP
Any funds raised at this event will benefit local youth through this special annual scholarship award. The intention behind the inception of this CAPE initiative is to continue the legacy of Elaine C. Trumpetto, a much-loved and inspiring woman dedicated to our mission who spent decades being of service to others and making a difference in our community. Elaine served as the Executive Director of CAPE from 2007-2020, during which time she made amazing strides in furthering our mission. Words cannot fully express our gratitude for Elaine's presence in our lives and our community. She never turned away someone in need and was always willing to lend an empathic ear. Her tenacious perseverance was a source of inspiration for many…
We will collect donations for this memorial fund throughout the year and award this scholarship to deserving local students from schools in Dutchess County each spring. With the help of Elaine's family, we will select young individuals who mirror Elaine's passion for serving the community and her dedication to health, wellness, and education. Those exemplary youth chosen to receive this scholarship will also be honored at our annual Anniversary Celebration Gala. Please help us spread the word about this special initiative!
Would you like to give a holiday gift to someone in need?
GIFT DRIVE FOR HOPE ON A MISSION

Hope On A Mission (HOAM) is a street outreach ministry seeking to restore dignity, with love & grace, to homeless, addicted women (and men) in the streets of Poughkeepsie, NY, and beyond. They believe that, through relationships of genuine compassion, they can make a difference in the lives of the people they serve. We wanted to take a moment to recognize the beautiful way that the volunteers at HOAM are meeting people where they are, and celebrating them as people who are worthy of empathy and kindness.
Our friends at HOAM need specific items this season:

Twin Sized Blankets
Leggings or Long Johns
Hand/Foot/Body Warmers

EVENT LOCATION: American Legion Post #1302, 55 Overlook Rd, Poughkeepsie, NY 12603
A Special Thank You to the American Legion Post #1302
We are so grateful for your support of this event and the donation of your hall for our venue. Thank you for your service to the community!
Questions/Concerns: