The Elaine Trumpetto Memorial Fund
November 9, 2023
Announcing our new initiative to continue the legacy of an icon in local prevention efforts…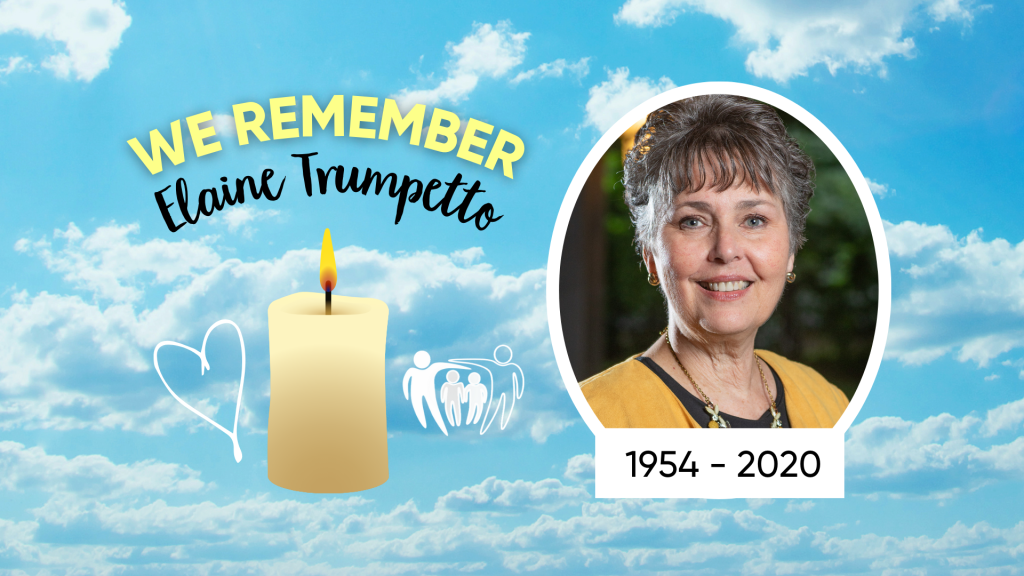 Many of us have had the honor of knowing Elaine Trumpetto and have been on the receiving end of her thoughtful guidance and unyielding support. Elaine's purposeful and strategic leadership of CAPE and her tireless dedication to prevention have allowed us to develop long-lasting, meaningful partnerships and demonstrate the power of prevention in our community.
ABOUT ELAINE'S LIFE & LEGACY
Elaine passed away in December of 2020, after a long battle with cancer. She was a kind, gentle soul with a huge heart, and she carried herself with grace and humility. Elaine earned her bachelor's degree from Upsala College and her master's degree from Colgate University. She was a dedicated wife to her beloved husband, John, and she was a mother of two: Jared and Brynna. She lived here in Dutchess County for more than 40 years.
Elaine was a giver with an unwavering commitment to her family and friends. She was involved with her children's schools and extracurricular activities. As an active volunteer for several organizations, she was devoted to helping individuals and families in the community, even before she began her professional career in human services. Elaine cherished spending time at her family home in Pawcatuck, CT, and caring for her Cavalier King Charles Spaniel, Biscuit.
Elaine served as the Executive Director of our organization from 2007 until her passing in 2020. During her professional career, she was a force for good who had a significant impact on local prevention and recovery efforts. Her ability to form and nurture meaningful connections with local leaders, elected officials, civic organizations, and local school districts allowed CAPE to draw attention to the opioid crisis and inspire change via important prevention initiatives throughout the Hudson Valley.

ABOUT OUR MEMORIAL FUND INITIATIVE
Words cannot fully express our gratitude for Elaine's presence in our lives and our community. She never turned away someone in need and was always willing to lend an empathic ear. Her tenacious perseverance was a source of inspiration for many… For this reason, we hope to continue her legacy through our new initiative: The Elaine Trumpetto Memorial Scholarship.
We will collect donations for this memorial fund throughout the year and award this scholarship to deserving local students from schools in Dutchess County each spring. With the help of Elaine's family, we will select young individuals who mirror Elaine's passion for serving the community and her dedication to health, wellness, and education. Those exemplary youth chosen to receive this scholarship will also be honored at our annual Anniversary Celebration Gala.
Please help us spread the word about this special initiative!
Stay tuned for further updates.
MORE ABOUT OUR ORGANIZATION:
CAPE has a long and distinguished history in Dutchess County. Founded in 1987, with just three staff members and a state grant to provide prevention services to schools, the agency set forth on a path to introduce substance use prevention resources and programming in our community. From 1987 to the present, we have seen the growth of our agency through grants, programming, fee-for-service, contracts, and partnerships. We currently have fifteen hard-working employees, a devoted board, and investment from our community, which has allowed for continued prosperity. Our long history is a testament to the importance of CAPE's mission and its lasting influence in the county.