Have you seen us lately?
January 22, 2021
If you have not seen any posts from CAPE or any info about our events on your Facebook feed in a while, it's likely because of new changes Facebook has made to its algorithms… Unfortunately, these changes make it extremely difficult for business pages like ours to be seen by our followers.
The good news is that there is an easy way to fix this!
If you haven't been keeping up with our social media accounts lately, you've been missing out on our post about valuable resources, annual awareness campaigns, upcoming events, important agency news/announcements, and other content related to prevention, recovery, and overall community wellness.
If you've missed any of our 2020 virtual events or want to experience them again, the recordings are all available online! Click the button below to check them out.
So, how can you fix it?
You can go to our Facebook page @capeofdc and change your following settings related to CAPE. With just a few clicks, you can help make sure you see our posts more often. And if you ever change your mind about seeing our posts, you can always just change the settings again to see posts less often. You only need to fix these settings once, and you can do it either from your computer or from the app on your phone.
Here are 4 easy steps to make sure you see our posts:
2. Click the menu symbol (three dots) to the right below our name
3. Choose the 'following' option from the menu
4. Change each setting to make sure you see our posts
News Feed should be marked as Favorites
Posts should be set to Standard notifications
Videos/Live Videos should both be set to All
If you have any trouble following these steps, please utilize the visuals below.
Screenshot of the steps from a phone:
Screenshot of the steps from a computer: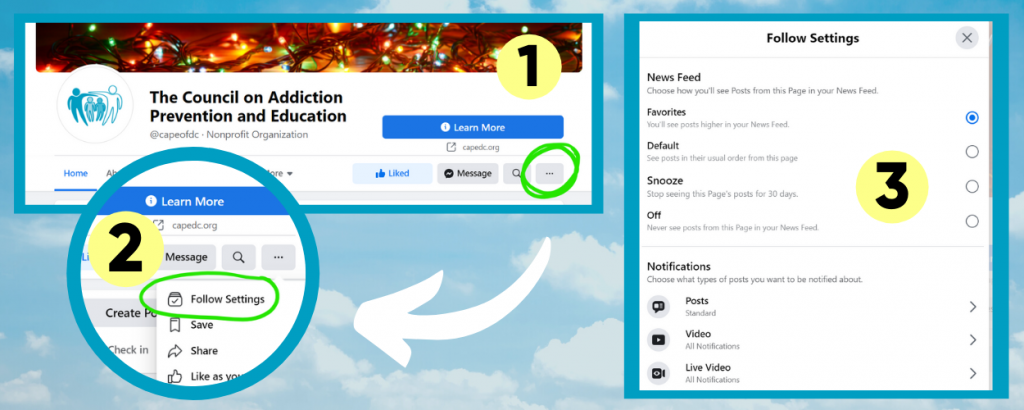 Submitted by Alara Bedka